Web Design Frequently Asked Questions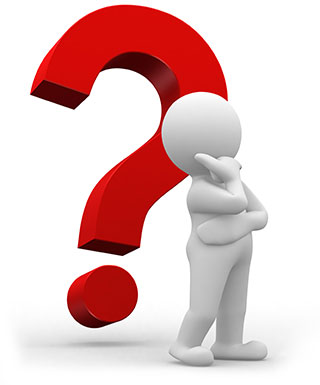 Do I really need a website for my business?

Absolutely! If you have a business, you should have a website... period. The internet age is here and growing rapidly. There are over 644 million websites on the internet and the number grows at a rate of about 40 million per year. If you don't have a website, you are losing business to other companies that do. That's a fact.

These days, most consumers search for information online prior to making purchases. Your web-presence will ensure that these potential customers can easily find out more about your business, its products, and/or your services. (7 days a week, 24 hours a day).



Why not skip the professionals and build my website myself?

It's not enough to simply just have a website online. You must have a professional looking website if you want to be taken seriously.

If you are serious about your web presence and your web site will serve as a key marketing or E-commerce tool for your business, you will need a website that is optimized to reach your target audience, capture their attention, and successfully deliver your marketing message.

In any industry, it is always a mistake to believe that a novice can easily do the work of a seasoned professional. If your website is poorly designed, slow loading, hard to navigate, and/or doesn't stand out, it will be quickly abandoned by customers and your chance at making a good first impression will be lost. Furthermore, poor search engine optimization (SEO) can cause your website to be virtually invisible on the internet.

The professionals at Silk6 Media, Inc. will ensure that your website has the fundamentals to grow your business. Our developers will build you a customized website that captures and keeps the attention of potential customers by making it unique, eye-catching, easy to navigate, interractive, organized, and feature rich. We will also give your site the optimization necessary to reach your target audience. and we don't stop there ...

Your business is unique and your website should reflect that. We go beyond the 'visual' aspects of the web site assuring custom functionality and providing "behind the scenes" enhancements that are usually not known by non-professionals. These enhancements include, but are not limited to, search engine optimization, tag development, graphics optimization, and custom code/script development.



Why should I choose Silk6 Media?
What makes you different from other web-design companies out there?

Unlike the "themed" layouts of Wordpress style designs, our company offers "customized" services, creating websites that are unique to your business.

Not only are we experts in code programming, we are also experts in computer graphics design and media marketing as well. This means that we build fully functional "beautiful" websites that send compelling marketing messages, demand attention, and grow business! Our developers also ensure that our clients' websites are search engine friendly (SEO), easy to navigate, optimized for fast loading, unique, and eye-catching!





Where must I go for my free web-design consultation and what hours are you available?

Our sales reps are mobile. If you live in the Baltimore Metro area, we will come to your location for a free consultation. We schedule our meeting times as late as 7:00pm on any day of the week so that you will be able to speak with one of our knowledgeable, friendly website consultants at a time most convenient to you.

You may also have your free consultation by telephone.



What is a domain name and how do I choose mine?

Your domain name is your personal address that connects a visitor to your website. (much like a phone number connects a caller to your phone). Your domain name can be what ever you choose as long as it is available for purchase. You can check the availability of domain names by doing a domain name search.

Your domain name must be registered and has its own fee that is paid annually. Our company offers domain purchase, registration, and annual renewal services. You can also opt to purchase your domain on your own and handle the annual renewal fees yourself.



Tip for choosing a good domain name

Most people who search for your business on the web will try typing in www.yourbusinessname.com to find you so we recommend that you try to match your business name to your domain name as closely as possible. Domain names cannot be longer than 63 characters.





I have text information, graphics, and a logo.
Do I need these items at sign-up or can I supply them later?

We utilize your logo, images, and text information to customize your website. While we prefer to have all of this content at sign-up, it is not required. These items can be inserted at any time during the design process. You should keep in mind that the quicker you provide us with this information, the faster we are able to complete your project. Long delays in getting this material can change the "estimated date of completion"



Do I have to host with Silk6 Media if I sign up for your web design services?

No you don't. If you would like for us to build you a website that can be hosted elsewhere, you can purchase a shared rights agreement from us for the design. This means that once your design is complete, you can take the entire website and upload it to your existing host.

The fee to purchase a shared rights agreement is typically the equivalent of the design fee price. (eg. a $1500.00 website design would cost $3,000 with a shared rights agreement)



I like the look of a particular website. Can I have similar one?

Yes you can. We want you to have your OWN identity on the web, so we will never duplicate another company's website entirely. However, if you find a website that appeals to you, feel free to mention it to your project manager. Our design team will take your interests into consideration while constructing your custom website and will give you those similar looks and features while customizing it to make it unique to your business.

Will Silk6 Media edit an existing website or do you have to design it from scratch?

Sorry, we do not edit existing websites unless you plan to host that website with us. If you want to sign on for services with us, we can also design a similar website for you.



I would like Silk6 Media to build my website. Where do I begin and what is the process?

The fist step is to select what plan fits your needs and budget. We have five different design packages available (Bronze to Premium). Once you select your package, your next step is to fill out our "Free Consultation" form and someone from our sales team will contact you to set up an appointment.

Once you sign up for services, we will start the process of creating your custom web presence. Click here to see the whole Website Design Process.



What kind of guarantees do you offer on my web design purchase?

We have an outstanding team of professional programmers, graphics artists, and writers and we guarantee that your website will be created in a timely manner with user friendly features and eye-catching appeal. Our design team will work with you every step of the way to ensure that your finished project meets or exceeds your expectations.



What do you do to ensure that my site is optimized for the user?

People on the web typically want instant gratification and visitors will quickly abandon websites that take a long time to load. We create optimized, fast loading pages and graphics so that your visitors can browse your site quickly and comfortably. We also make your site should be easy to navigate so that your visitors don't get lost or irritated looking for information that is hard to find.

Furthermore, Your website should be developed so that it works with the most popular web browsers. Unfortunately, not all web browsers function the same and features in one particular browser don't always work in other browsers. Silk6 Media works to ensure that all of your website's features and functionality are optimized for cross-browser compatibility so that you have the most effective web presence.



How long does it take for a design to be completed?

The amount of time to complete a website design always depends on the complexity of the website (and also the amount of revisions requested during the website design process). All of our website packages have an estimated project duration. No matter how complex, we usually finish the design in far less time than quoted if you have all text, logo's, and images available when you sign up. We take pride on our fast turn around time.



What is your policy on revisions during the design process?

You will have special access to an area of the website where you can see your website as it is being constructed. Your ideas and expectations are an integral part of the design process. During the designing phase, it is your responsibility to check back periodically to be sure that your websit4e is looking the way that you envisioned and also provide a list of changes and requests to your project manager if necessary.

So that we stay on schedule and can meet the necessary deadlines, we allow only one free revision request per topic. Continual revisions of the same thing can result in additional charges. It is best that you provide us with as much information as possible so that we can design web site exactly the way you want it.




What is your payment policy and what type of payments do you accept?

Before our team of professionals gets started on your custom website project, we require a 50% deposit of the total design fee plus the first month's hosting fee. The remaining balance for the design fee is split into weekly payments based on the estimated time of completion.



Example:
A website project estimated at 14 days to completion with a design fee balance of $400.00...
would be broken into two weekly installments of $200.00.




We accept major credit cards

for payments (Visa, Mastercard, & Discover). We also accept cash for deposits if you sign up for services during a consultation. We do not accept checks.



Do I get one programmer for my website project or will it be a group of people?

We have a team of programmers, graphics designers, and writers that work in unison to complete your project in a timely fashion.

However, once you sign on for Web Design service with us, you will be assigned a dedicated project manager. Your project manager will be your direct link to our creative team throughout the entire design process and he/she will ensure that your expectations for the website design and it's functionality are properly communicated and implemented.



What support do you offer after the website is complete?

If at any time you have questions, concerns, or issues with the functionality of your website, feel free to contact our technical support team. We are always happy to assist you to ensure that you get the full benefit from your website. Our technical support staff is available 7 days a week by phone or our ticketing system.



Do you offer payment gateway integration on eCommerce websites?

Yes, we can give you everything you need to have a successful and full featured online store. This includes integration of the PayPal payment gateway (or other merchant gateways) into your store to process credit card transactions from your customers. Ask your sales rep. for details.



Can I get more pages if needed? What is the cost?

You may add additional pages at any time during and or after the design process is complete. Our design team #1 goal is to build you a website to fit your exact needs and specifications. The cost for extra pages added on to one of our design packages is $45/page.



Can I upgrade from the smaller to a larger package?

Absolutely! If you would like to start out with a smaller package and eventually upgrade to a larger, more complex website design, it is no problem at all. We can upgrade your web design package for you by adding the additional pages and features of your choice and/or restructuring your existing design. You will also get a credit (50% of the cost of your current design) toward the upgraded package.



Once you complete the website design, who owns the copyright of the designed site?

Silk6 Media retains the rights to all designs and artwork that we create including but not limited to photography and/or illustrations (with the exception of any logos created to represent your business) unless a "Shared Rights" agreement is purchased and issued.



What is the turn around time for updates or revisions that I request after the website is completed?

The turn around time will depend on the amount of revisions requested and the complexity of those revisions. After contacting your project manager you will receive a quote on the price and an estimated total time to completion.



Will I be able to make revisions to my website myself after it is completed?

Post completion revisions can be handled it 3 ways.
By requesting a

Content Management Interface (CMI)

By requesting

FTP Access

By Requesting that our

Design Team

make the revisions.
Option 1 - (Content Management Interface)
Certain website add-ons automatically come a CMI (Photo Galleries, Blogs, News and Events Pages, etc.). However, at your request, we can install a CMI for general pages on your website which allows you to revise text and pictures within that page at any time by logging into your password protected Admin area. The fee fo a CMI is $5.00/month for each page. (Discounts available for multiple pages)
Option 2 - ( FTP Access)
If you are comfortable with editing website HTML code you can request FTP access to the root files of your website. From there, you can use any editor to make changes. Our designs are compatible with Dreamweaver, WebEZ, Frontpage, NVU and many other web design tools. Subscription to FTP access service is an additional $10.00/month.
Please Read:
Editing website code is a delicate process and can cause major problems if there are flaws in your code. If this occurs, our programmers can fix the situation for you. You will have two options:
Page Code Reset:
When we launch your website, we take a snapshot of the new website. This means that we can reset your page back to the way it was when you first launched your website. Our fee for a Page Code Reset is $25.00

Page Code Adjustment:
This process takes a little longer than a reset but is will work for you if you do not want to lose ALL of the changes made to your page. We will assign one of our professional programmers to troubleshoot and fix your page code so that it works correctly and includes your desired changes. Our fee for Page Code Adjustment starts at $65.00/hour. (Normal code-error situations take about an hour)
Option 3 - (Revision by Silk6 Media Design Team)

If you decide that you would like our team to make revisions for you we will be happy to assist! Our service fee for revisions is always $15.00 per revision request. (This includes text-revisions for one page. Text-revisions for additional pages are $5.00/page). Additionally, other revisions such as graphics editing, adding graphics, adding functionality are at an additional cost. Your project manager will generate a detailed quote for you based on your specific requests.




What is Search Engine Optimization (SEO)?

Search engine optimization (SEO) is the use of strategies, techniques, and tactics to ensure that your website is seen by search engines (such as Google, Bing, Yahoo, MSN, etc.). Effective SEO will also improve the chances that you website will obtain a high ranking within the search engine results pages (SERP's).

How can I get my website listed in Google & other search engines?

One of the many valuable services that we offer is search engine submission and optimzation. If you choose this service, we will take the necessary steps to ensure that you are listed on all of the major search engines (e.g. Google, Yahoo, Bing, MSN, etc.). Learn more about our Search Engine Optimization Services.



Can you 'guarantee' a top ranking on the Search Engines?

A guarantee of top ranking in the search engines is impossible. Don't be fooled by any company promising you that your website will be #1 on Google, Yahoo, Bing, etc. No legitimate company can ever make that promise. The search engine systems are in total control of who is listed at the top, never the SEO company. If an SEO company guarantees you will be #1 overnight, its a scam. However, with the Silk6 Media's proven SEO campaigns, stategies, and effective techniques, your website will rank close to the top (if not at the top) of search results. Click here to read more about our SEO Services

What is Organic Search Engine Optimization?

Organic SEO is the phrase used to describe processes to obtain a natural placement on organic search engine results pages (SERPs). Some examples of techniques used for organic SEO include using keywords and keyword analysis, backlinking, link building to improve link popularity, and writing content relevant for human readers.

How long does it take to get my site listed on the search engines?

Each search engine system has its own schedule for crawling/indexing and listing web sites. Search engines do not guarantee inclusion from their free submissions and they never offer time frame for being listed. However, most web sites that we optimized to be "search engine friendly" do get listed within a few weeks.

Google, the most frequently used search engine, currently takes about one to three months to index and reindex pages. Google does not have a paid inclusion option. Yahoo/HotBot/Overture/MSN/About do not guarantee that they will list all sites that are submitted to them for free. Other search engines have the same one to three month inclusion time.

Are search engines the only way clients will find my web site?

You do not want to rely solely on the search engines for getting traffic to your website. Thousands of new websites are submitted to search engines every day so the search engines can take weeks (sometimes even months) to index and list your site unless you are willing to pay big bucks for submission.

For your web site to be found faster, you must have an effective marketing strategy. Make sure that your web site address is on all of your current marketing tools, such as your brochures, newsletters, business cards, e-mail correspondence, business letterhead, etc. You also want it on and other media advertisments such as newspaper or radio, telephone answering services, etc.

We also recommend listing your site with all appropriate indexing services, such as free local and national business listing sites. There are many sites that offer links to web sites within business or interest categories.
---
If you have more questions that are not answered here, please feel free to contact us. There is no charge to speak to a customer service representative and have your questions answered.



How do I get listed in Google & other search engines?

One of the many valuable services that we offer is search engine submission and optimzation. If you choose this service, we will take the necessary steps to ensure that you are listed on all of the major search engines (e.g. Google, Yahoo, Bing, MSN, etc.). Learn more about our Search Engine Optimization Services.



What is your privacy policy?

Privacy and information security remains a major priority with our company. We will always keep our clients' personal information protected and strictly confidential. We never sell or share your personal information to any Third-Party company without your expressed consent and knowledge. You can review our privacy policy at the following URL: http://silk6media.com/privacy-policy.html