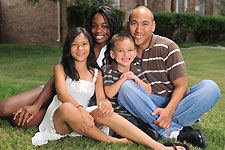 Whether it is for lasting memories or to create first impressions, the quality of a portrait can make a big difference. When you select a photographer to create your personal portraits, you want a professional who can make your session a fun, memorable experience that results in creative images of exceptional quality.

Silk6 Media is your #1 source for professional high-quality portraits!
Our prices are much lower than the local photography studios and the quality of our work is always outstanding!

We specialize in on-location "lifestyle portraiture" which means we will travel to your home or another location that has special meaning to you in order to make your portraits a unique, personal, and more comfortable experience.

Whether you are an individual, a small family of 2, or large family of 20, you can count on our experience, skill, and our attention to detail to produce quality images that you will cherish for a lifetime!




(can be shot at any location of your choosing)



Family Portraits at home (or other location)
Newborn, and Children's Portraits at home
Senior Portraits at home
Individual Portraits
Group Portraits
Maternity Portaits at home
...and much more!
Here's how it works ...

• Our photographer will bring professional digital photography and lighting equipment to your location, along with a laptop computer (and professional backdrops if necessary).

• We will help you choose the best scenic locations and backgrounds to take your shots. Then we shoot your pictures in different poses and lighting conditions. In some cases, you will get the chance to change your outfits.

• Once your shoot is done, we sit with you to review your pictures via laptop or (HDMI TV setup). At that time, you can select and order the prints packages that are best for you.



About Family Portraits From Your Home

Don't have time to gather your family to a local studio for a portrait? Silk6 Media can bring the studio to your home!

Taking your family photos in locations that are personal to you will give them a more "lifestyle" type of feeling and make your photos unique to you and your family.

We do more than just take family photos. We produce personalized family art for your home that your loved ones will cherish for years to come.

Photo shoots in the family home, your favorite parks, and other sentimental locations can produce great results as there is a familiarity and a warmth in the portrait that is sometimes difficult to capture in other (less familiar) places. Furthermore, your backgrounds and props will help show YOUR personality and give your portraits emotional meaning to you. We can also bring professional backdrops to your home if you request.






About Maternity Portraits

Every woman should have a beautiful photo from their pregnancy. Your pregnancy is a very special time. It is the promise of new hope and new life.

Silk6 Media can preserve this precious time with creative and elegant fine-art portraits of your Maternity. We can even include your partner if you request. We specialize in "on-location" maternity photography which means we set up a complete studio in the comfort of your home or in another special location of your choice and shoot your photographs while you're at ease within your favorite surroundings.

Before your session begins, the photographer will sit down with you to chat and get to know more about what you like about your body, discuss what level of clothing or undress will make you feel most comfortable, and to find out which style of photographs you envision or prefer.

During the photo session, we will take many photographs in a variety of poses (and often various lighting conditions), giving you many options to chose from.

After your photos have been shot, we will sit down with you to review your photos via our laptop computer (or HDMI TV setup) and you can chose the prints package that is right for you.

Once your baby is born, we are also available for Newborn photography and can create an artistic merge of the before and after birth shoots.